This is based on a snap I took few years back on the way to Tambdi Surla. Getting the trees right was a priority for me, as I had never done anything like this before, however the boat at Mandovi painting had a small background with some impression of trees, and I decided to use the same simple technique in this one as well. The road was also a bit tough, but I am happy in the end with the result.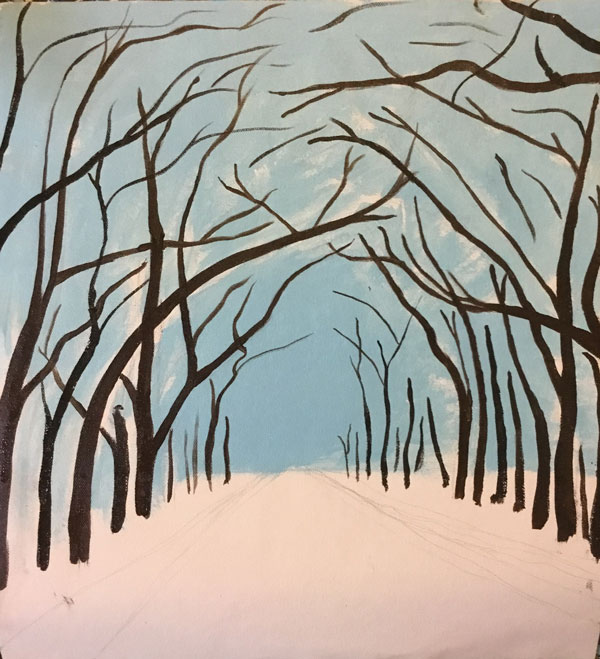 The first step was the rough sketch using a carbon pencil and a quick dab of paint for the tree trunks. I used a mix of brown and black to get a very dark shade of brown, but its not completely black. Filled up the base layer of sky everywhere so that as I put the leaves, the sky can peep through the gaps.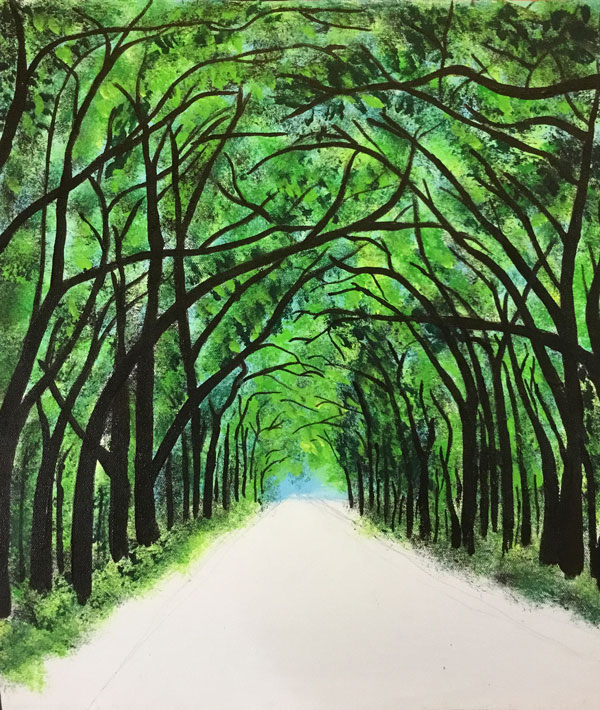 Next was to put some base layer for the greenery. I mostly used a lighter shade of green with some dabs of dark green and yellow.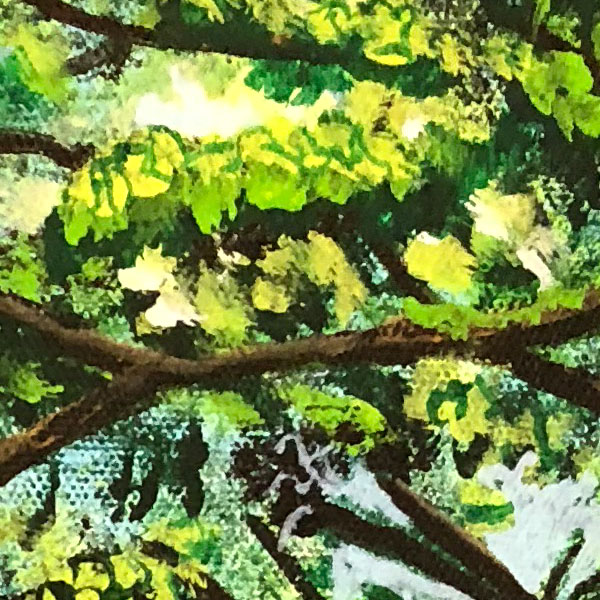 The last few steps were to add multiple layers of leaves of different color. As light source would be above, take black color on a flat brush as gently tap it on the lower surface of your bunch of leaves. Then the same process with dark green, light green and yellow. Finally to break to topmost layer yellow streak take a fine brush and mark a few random green lines in the yellow topmost layer as can be seen above. The branch also has layers at some places. Again with the light source above, the top portion of the branch is lighter shade of brown. Last add some spots of sky peeping by adding blue as can be seen above.
The last bit was the road, and I must admit I went a bit mad here. In the end I put some long streaks and some shadows of the trees to try to get the effect right.
This painting has a meaning to me as many years back I went for a drive along with a couple, and their 4 year old son. The drive was majestic as it was during the rains and the lush green canopy could be seen everywhere. Close to Tamdi Surla the drive was more beautiful with these trees hovering over the road trying to form a bridge. We all stopped to click snaps. This was the last trip I remember before my friend passed away. The snap this painting is based on always reminds me of him, and his carefree nature.