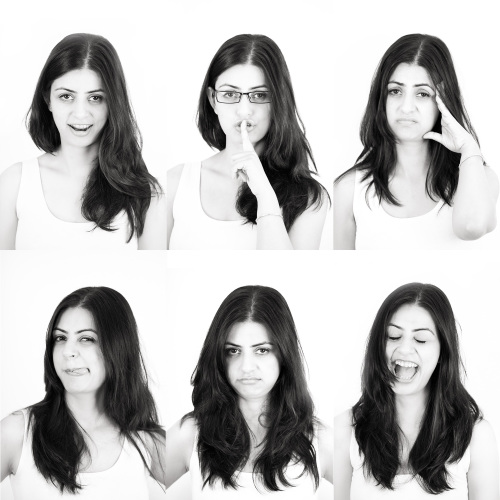 Facial expressions and body language are giveaway, I might lie by my words, but my expressions might not.
Clicking snaps of people is interactive and fun. Asking them to be natural in front of the camera is tough at time, and the best way to loosen up is to try an expressions series. It sets a right rapo between the photographer and the model/subject. Smile, laugh, cry, shock, bored, crazy are some of the moods you can use, the more the better. Few tips
Use a wide aperture, and zoom. A classic 50mm lens is perfect for this.
Keep in mind, expression snaps involve movement, and hence your shutter speed has to be good. I recommend at least 1/100 sec.
Ensure you frame your subject the same way in each snap. This ensures when you merge the snaps they all come at the same level. A tripod might help. Photoshop of course will help adjust.
It's important that the photographer does these actions first, so that the model does not feel silly doing themselves. So e.g. laugh silly yourself.
When clicking these snaps its best that friends, family etc. not present in the same room. People get conscious when there are other people around, and might be shy giving their best expressions.
The first set of snaps won't be the best, the subject is always a bit stiff, conscious, and it shows in the snap. So come back to the same few expressions at the end of the shoot which you did in the start
A bright natural lit area is always the best. Try to avoid artificial light for this.
Props are good, but in a series snap they can be distracting avoid it, unless each snap has a prop which adds to the snap.
To ensure the shine on the face does not reflect too badly, always ask your subject to apply some face powder. It does miracles!
Click as many snaps as you can!
Thanks Priya for posing so well. As always you have done a brilliant job!