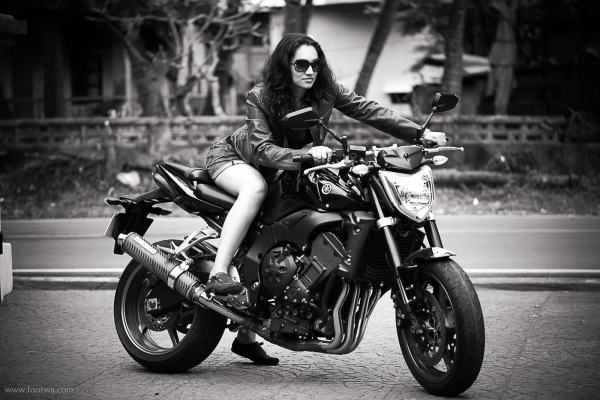 "Whoever said diamonds are a girls best friend, clearly never owned a bike"
The beast of a machine stood there, looking all mean, showing off its biceps as sunlight reflected its chrome black and steel body. The roar of engine made one proud. As Tanya sat on the bike, the lady and machine become one. The combination lethal. Tanya a commercial pilot is used to mean machines!
Few details about this snap
Bike: For this snap Brian specifically positioned the bike so that the 4 pipes leading to the exhaust could be seen. This was a good idea.
Model: Tanya wore leather jacket and denim shorts which were perfect for this. Brian was particular about the position of the foot to ensure its on the gear shift properly. Such details always help. Zaver give tips on the pose. To add to the appeal Tanya leaned forward curving her back. Her natural, comfortable pose and not smiling grim look she gave for this was perfect.
Background: The background of a street with shrubs, houses and palm trees, all elements add up to the snap. It would have been great to pose this on a road but with the traffic we decided against it.
Lighting: Natural afternoon light, luckily it was a bit gloomy weather so the sunlight was not harsh.
Equipment and setting: Canon 5D Mark III with 100mm f/2.8 L series lens. f/2.8 allowed a good blur to the background. ISO 320 ensured I had a fast shutter speed.
Post-processing: Made the image black and white and added more contrast.
Thanks Tanya for the incredible pose! You look stunning.
Special thanks to Brian and Zaver for their invaluable tips and suggestions.