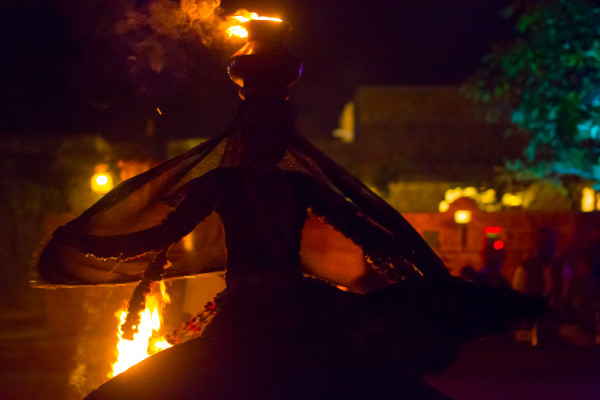 .. and she become one with fire, as she danced in half rhythmic and half chaotic moves, as her hands lashed out like the licks of the flame she held…
The cultural program in Rajasthan is worth watching especially if there is a fire dance which involves a dancer balancing a pot on fire on her head. The folk music, the song, the chants and the dance take you on a journey unlike any other. And if you are lucky, like me as you can see in the below snap,


you might get this setup arranged in the middle of the desert where you sit in sand with bonfire while waiters serve you your whiskey on the rocks or any other drink you fancy. As you sip your drink and enjoy the sand in your feet and the breeze is chilly but the warmth of the bonfire is just perfect you cant help but give a pat on your back, "this holiday was indeed well organised". The cultural program starts soon with spot lights focusing on the folk singers and dancers. I would suggest everyone to take a blanket or a shawl if you go in the winter.
All these snaps were tricky to click as the lighting conditions were bad. Each of the snaps above are in the ISO range of 2000 to 10000 based on the amount of light available and the shutter speed I need (faster for dance moves). The main snap has been clicked using a 100mm lens, while the remaining 2 are 50mm.